BY JEREMY KAY
26 JANUARY 2022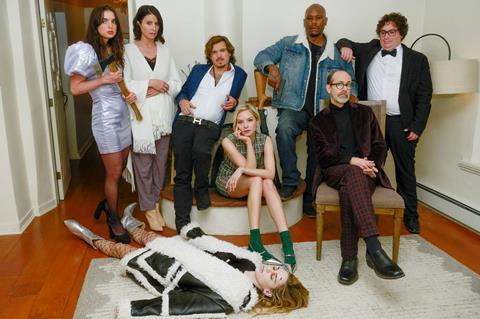 SOURCE: STOKED FILM GROUP
13 Films will launch talks on its ensemble dark comedy Helen's Dead at the online EFM and has announced new cast and released an exclusive first-look picture.
Matilda Lutz (Revenge, Rings) will star in the title role for Stoked Film Group and Beth Dover (Orange Is The New Black) has also joined the cast that includes previously announced Emile Hirsch, Annabelle Dexter-Jones, Dylan Gelula, Oliver Cooper, Tyrese Gibson and Brian Huskey.
The story follows a young woman who crashes a dinner party to confront her cheating boyfriend, only to discover his lover is dead and the killer is on the loose, turning all attendees into suspects.
K. Asher Levin directs Helen's Dead based on a story he co-wrote with Amy Brown Carver written by Carver. The film recently wrapped production in New Mexico and was financed by 828 Media Capital.
Levin produces alongside Stoked Film Group's Daniel Cummings, Robert Dean, Ford Corbett, Roy Scott Macfarland of Tetrad Studios, and Todd Lundbohm of 828 Media Capital. Grady Craig, Matthew Helderman, and Luke Taylor serve as executive producers alongside Tannaz Anisi and Greg Schenz for 13 Films.
Los Angeles-based 13 Films's sales slate thriller Every Breath You Take starring Casey Affleck, Sam Claflin, and Michelle Monaghan; upcoming BBC adaptation My Name Is Leon with Malachi Kirby and Christopher Eccleston; and sci-fi horror The Friendship Game starring Peyton List.
https://www.screendaily.com/news/13-films-to-launch-efm-sales-on-helens-dead-releases-first-look-exclusive/5166978.article