Published: 1 March 2021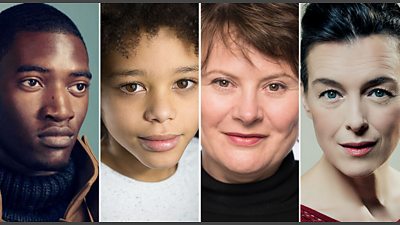 Filming has begun in Birmingham on BBC One's adaptation of Kit de Waal's lauded debut novel My Name is Leon, produced by Douglas Road Productions (a Banijay UK company) in association with Tiger Aspect Productions, Ringside Studios and Vicarious Productions.
Shola Amoo's first screenplay for television, it stars Malachi Kirby (Small Axe; Devils; Black Mirror; Roots), Monica Dolan (A Very English Scandal; Talking Heads), Olivia Williams (Counterpart; The Father), Christopher Eccleston (The A Word; King Lear), Poppy Lee Friar (In My Skin; Ackley Bridge) and Sir Lenny Henry CBE (The Lord Of The Rings; Doctor Who). Cole Martin will play the lead, Leon, in his first TV role. Lynette Linton, Artistic Director of world-famous home for new plays and playwrights, the Bush Theatre, will direct, her directorial debut on a television drama.
Set in 1980s Birmingham, this special one-off film tells the uplifting and incredibly moving story of nine year-old Leon, a mixed-race boy, and his quest to reunite his family after being taken into care and separated from his blond and blue-eyed baby brother.
Told through Leon's eyes, we follow his journey, full of energy and hopefulness despite the hardships he encounters, and witness the touching relationship between him and his foster carer Maureen. With his favourite action figure Sergeant Smith by his side, Leon's adventure teaches him valuable lessons about himself, the world, love, and what family, in its various guises, really means.
Set against the backdrop of the race riots in the 1980s, this tender and inspiring tale balances gritty realism with charm and gentle humour, exploring the issues of identity and belonging with both urgency and wit.
Malachi Kirby says: "It's rare, in my experience, for projects such as this to be made and even more rare to be seen, so I'm really excited and grateful to be a part of it."
Monica Dolan says: "Rarely do you get the chance even to read a script of such heart, soul and wisdom as Shola's. And it could not have come at a more appropriate time. I am thrilled and privileged to be working with such a great cast and to be part of Lynette Linton's TV debut."
Olivia Williams says: "This film is a real challenge for me. The subject matter has deep resonance, and my character is both grotesque and very real. I'm so excited to be involved."
Sir Lenny Henry CBE, Executive Producer for Douglas Road Productions, says: "It is my honour to be part of the squad bringing Kit De Waal's My Name Is Leon to BBC television. I discovered the book whilst performing the audio book and was so moved on the first day's work that I rang my office at lunch time and said, we've got to try and do this. Thankfully, after five years, we've pulled it together with a great writer (Shola Amoo), director (Lynette Linton), cast and crew. I can't wait to see the results."
Mona Qureshi, Executive Producer for BBC One, says: "We are absolutely delighted to be working with Douglas Road, Ringside and Vicarious on this very special adaptation of My Name Is Leon for BBC One. I can't wait to see Lynette and our fantastic cast bring Shola's take on Kit De Waal's brilliant and utterly affecting story to life."
My Name Is Leon (1×90') is made by Douglas Road Productions (a Banijay UK company) in association with Tiger Aspect Productions, Ringside Studios and Vicarious Productions for BBC One and BBC iPlayer. It has been commissioned by Piers Wenger, Director of BBC Drama, and Charlotte Moore, BBC Chief Content Officer. It is executive produced by Lenny Henry and Angela Ferreira for Douglas Road Productions, Gub Neal and Edward Barlow for Ringside Studios, Mona Qureshi for the BBC. Jyoti Fernandes is Script Executive. Carol Harding (Soon Gone: A Windrush Chronicle, Agatha And The Curse Of Ishtar) is producer.
Ingenious Media provided funding alongside Lipsync Productions and Creative England through the West Midlands Production Fund using ERDF funding. 13 Films are handling international sales. Filming is taking place in and around Birmingham.
CK
https://www.bbc.com/mediacentre/2021/casting-confirmed-for-bbc-one-my-name-is-leon?at_medium=custom7&at_campaign=64&at_custom2=twitter&at_custom1=%5Bpost+type%5D&at_custom3=%40bbcpress&at_custom4=902D1028-7A75-11EB-B1BB-55C696E8478F